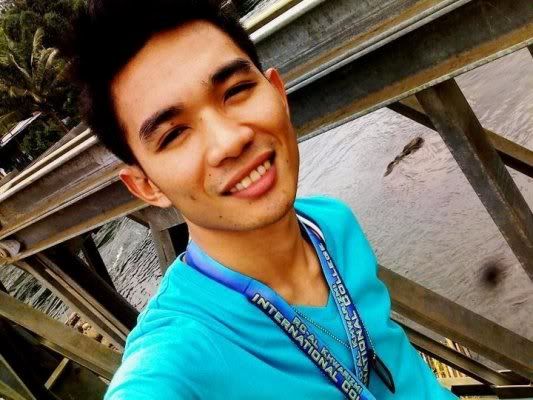 It's no surprise that he is the first person that I am featuring here. Because. He. Is. My. Partner in crime. A.k.a. bestie.
But more than that, I know that if I write about him, I won't run out of things to say. There is just no shortange in that area. But I don't know exactly how to begin. Maybe I'll just write down whatever I can remember about him.
Alright. I met him way back in high school during an inter-school quiz show. We were rivals. The next bump-into-each-other times were just vague. What I can remember is that once upon a time, we were together in every school organization that we were juggling. There was Mindanao Varsitarian (Mindanao State University official student publication), World Islamic Call Society, College Editors Guild of the Philippines, ACCESS-Philippine Youth Leadership Program, College of Natural Sciences and Mathematics-Integrated Quizzers Club, and maybe more. The more I got to know him, the more I find that Michael Jordan isn't half-man half-amazing because that description suits Rashid better.
He is the smartest guy friend I have. He knows everything. Well maybe I'm venturing already into the hyperbole territory but the point is, he is really good in everything that he does. Need proof?
1. He is a quiz wizard. He won every quiz show there was in the university when he was still an undergrad. From A1ers science-math quiz, Honors Program multimedia quiz, SLAAP intercollegiate quiz, to Markers Histolympiad, he bagged home the bacon.
2. He is one of Mindanao's best speakers and debaters. He is already a legend in the Mindanao debate championship scene.
3. He won the Supreme Student Government by a storm even if he ran as an independent candidate. There was "landslide" in every precinct. More than winning, he led the student body well.
4. He is a writer. A good one. He writes in a very orderly and logical way, perhaps because debaters have that sense of structure and organization in putting their thoughts into words. Visit his blog (even if he does not update regularly) here.
5. Graduated BS Physics with a Latin honor and a University Student Leadership Award.
6. His first job right after graduating is college secretary slash instructor. Who gets that kind of job at the launch of one's career?
The list will go on if I try to write every achievement he has. Let me just share some less known facts about Rashid.
1. He doesn't get fatter no matter how he tries.
2. His favorite dish is pyaren a badak.
3. He fantasizes that he is Harry Potter.
5. His birthday is coming up (December 17) and his wishlist is as follows: Raybans, Narnia/Chronicles of the Vampire books, cellphone, and flip-flops.